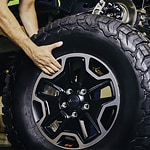 Even the most mundane road trip brings with it risks. A tire can suffer significant damage on the road after hitting "only" a pothole. Sharp objects might also pierce the tire and cause it to deflate. Regardless of why tires or wheels suffer damage, drivers in Princeton need to fix the issue. With Mopar coverage, those drivers can file a claim for repairs or replacements.
Mopar coverage is for vehicles with less than 100,000 miles and ten years or less in age. Owners may choose from plans ranging from two years to seven. Once coverage is in place, policyholders receive repair and replacement guarantees on all four tires and wheels. Coverage, of course, comes into play when there's a covered incident.
Mopar also comes with roadside assistance. While the wheel and tire coverage presents no deductible, roadside assistance requires a $100 payment.
Anyone needing service on their vehicle can visit Ramey Chrysler Dodge Jeep Ram FIAT. Our service department handles many maintenance requests.