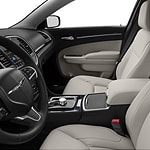 When you go to look for a new car, there are likely many things on your list that you want to consider. You need to find a car that fits the needs of your family and adjusts well to your own personality. With the new interior features on the Chrysler 300, it is easy to see why it is such a popular full-size luxury sedan.
You will find that the steering wheel is comprised of leather throughout. Your hands will love the feel of it. You will also have easy access to a number of system controls right from the steering wheel as well.
There is also the digital display to be excited about. This will show you various pieces of information related to the vehicle and external environment that you will be interested to know. You can visualize this and give the car a complete test drive the next time you visit Ramey Chrysler Dodge Jeep Ram FIAT.