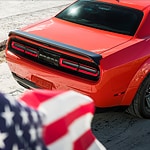 If you're on the hunt for a muscle car, then the Dodge Challenger is a vehicle that you should consider. This powerful vehicle lets you choose between rear-wheel drive and all-wheel drive. This means you get to pick exactly how drivable this vehicle will be.
The 2023 Dodge Challenger also comes with a few engine options for you to choose from. Our favorite is probably the 5.7-liter HEMI V8. It can bust out over 375 horsepower. It also makes quite a bit of noise, but we think that that comes with the territory.
The 2023 Dodge Challenger is also notably equipped with highly responsive steering and a flexible suspension that makes even the bumpiest roads more manageable for drivers of all skill levels. This is one vehicle that we think you are going to be very excited about.