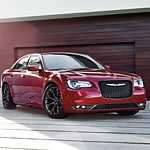 The 2023 Chrysler 300 is a revolutionary vehicle, boasting a wide range of cutting-edge technology features. From its advanced safety systems to its intuitive infotainment system, the 2023 Chrysler 300 is a car that is sure to impress.
The 2023 Chrysler 300's advanced safety systems are designed to give drivers peace of mind. It comes equipped with a suite of driver-assistance features, such as adaptive cruise control, lane-keep assist, and blind-spot monitoring. The car also features a rearview camera and parking sensors, making it easier to maneuver in tight spaces.
The 2023 Chrysler 300 also offers an intuitive infotainment system. The system is equipped with a large touchscreen display and a variety of apps, including Apple CarPlay and Android Auto. It also features a built-in Wi-Fi hotspot and a premium audio system. With these features, drivers can easily stay connected and entertained while on the road.