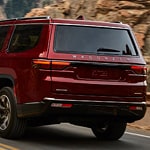 Get ready to take the wheel of a sensational new ride: the 2023 Wagoneer! This vehicle has been designed with sheer power and sleek efficiency in mind while providing an exceptionally comfortable experience. The 4x4 and AWD systems will deliver remarkable performance no matter what environment or conditions you're driving in – making it perfect for any adventure.
Regarding security and luxurious features, the Wagoneer has them all. It is equipped with Adaptive Cruise Control (ACC) for improved road safety and heated/ventilated seats that make every journey more enjoyable. Furthermore, its cabin offers plenty of space, six leather seating surfaces, and a 7-inch color touchscreen so you can easily access your favorite music while driving. With these smart technologies and aesthetic touches in place – traveling will never be dull again!
The 2023 Wagoneer is the ideal combination of comfort, power, and capability. Whether taking off-road trails or riding high on the highway, this SUV has everything you need for a stylish journey.